Bright Arts N Crafts Jaipur | The Bright Arts Net Work
Karbala Crossing, New Ramgarh road, Jal mahal Area Unit 508
Jaipur
,
Rajasthan
302002


Listing ID: 62947 Posted on 17-Jun-14
http://www.thebrightarts.com

Contact Details:
M.Ilyas Khan
Phone:

9352742911




9950350022


Cell Phone:

9829399622


Email:

artist (at) thebrightarts.com

.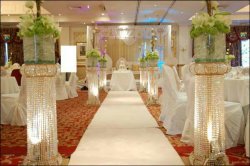 The Bright Arts is an Indian Wedding Planning Group which specializes in creating Dream Weddings!
We specialize in Weddings anywhere in India, whether you are looking for a Palace, Beach or Hill station wedding , we cater to all budgets and bring equal style and detail to every event -- consulting, designing & coordinating everything from the venue to the theme; the first dance to the last Bidaai. We take pride in our ability to create the perfect experience, blending Indian traditions with current international trends. Call IlyasG +91 9352742911, +91 9829399622, +91 9950350022, http://www.brightartsncrafts.com" rel="nofollow">LINK

We Specialize in :
Destination Weddings : in places such as Goa, Aamby Valley, Lavasa, Pune, Mumbai, Delhi, Ahmedabad, Daman, Banglore, Hyderabad, Chennai, Kolakta, Jodhpur, Jaipur, Udaipur, Agra, Kanpur, Lucknow, etc and international destinations such as Kuala Lumpur, Singapore, Bangkok, Pataya, Phuket, Bali, Mauritius, Dubai, Star Cruise, etc.

Jaimala Concepts : such as Mandir Theme, Hawan Kund Theme, Led Theme, Rajwara Theme, Crystal Theme, London Bridge Theme, Ramayan Book Theme, Valentine Theme, Sawariya Theme, Space Theme, Jhoola Theme, Moon Theme, Hydraulic & Revolving Stage Theme, Underwater Theme, Waterfall Theme, River Boat Theme, Sheep & Shank Theme, etc.

Celebrity Nights, Corporate Events : such as Meetings, Incentives, Conferences & Exhibitions, Promotions, Fashion Shows, Product Launches, LIVE Concerts, etc.
Theme Parties : such as Arabian, Moulin Rouge, Bollywood, Jungle, Pirates, Vrindavan, Punjabi, Casino, Rain Dance, Halloween, etc
Artist Management : Russian Dancers (Belly, Latino, Samba, Carnival, etc.), Bollywood Celebrities, Celebrity Anchors, Celebrity Singers, Celebrity DJ's, Television Artists, Laughter Artists, Reality Show Singers, Lil Champs, Item Dancers, Punjabi Singers, Folk Dancers, Bands, International Artists, Super Models, Anchors, Emcees, Models, Dance Troups, Duplicates, etc.

Our main highlights are Conceptual theme weddings, Grand jaimala concepts with different Bride & Groom Entries, Get-to-gether & Private theme parties, Anniversary & Birthday parties, Baby showers, Sangeet Sandhya & Mehandi functions, Entertainment shows, Fashion shows, contemporary flower decor, conceptual trousseau & gift packing, etc.

Other services which we provide are D.J., Sound & Special Lighting Set up, Choreographer & Dance Troupes, Video shooting & Photography, Fireworks , Bands & Solo Performers, Special Shows (Acrobat Shows, Laser Shows, Special International Acts, Dance Shows, Sand Act, Quick Change Act, Magic Shows, etc).
We have various types of Hydraulic & Revolving stages , Flower shower machines, different types of Palki, Doli and Chattar for bride & groom entry, royal soldiers, mashaal guys, welcome girls, pari (Fairy) for escorting bride & groom in Jai Mala, Reception or Ring Ceremony with various themes & stage setup.

We are Mfg. Hydraulic & Revolving Stage, Fabricators Of Iron & Steel Stages, Fiberglass Stage Fiberglass Backdrop Artists , Chattar, Palki, Doli, DJ Setup, Speakers, Lighting Truss, Dresses & accessories needed related to theme Call IlyasG +91 9352742911, +91 9829399622, +91 9950350022, http://www.brightartsncrafts.com." rel="nofollow">LINK

Report Abuse
Similar Businesses
Mississauga: Rani Kaur Events
Event Planning: SpecialEvents/Weddings/Corporate/Theme/ Fundraisers/Fashion Shows.
Date Posted: 24-Aug-04


Toronto: Dance Fusion Dance Academy
Private * Semi-Private * Group Dance Classes Specializing in: Indian Classical, Bollywood, Arabian Belly Dance, Hip Hop, R&B, Reggae, Jazz and Latin Dance Bridal Party Packages Available All Ages Welcome!! WE MAKE DANCING FUN!!! Call For
Date Posted: 06-Apr-06


Mississauga: The Wedding House Inc.
The Wedding House Inc. offers full wedding service, tailor made to your needs. We specialize in theme decor for weddings and corporate events. Since 1990, we have been and continue to be the leaders of wedding decorations, beginning with engagement,
Date Posted: 16-Jun-04


Toronto: VanKarDel Business Support
VANKARDEL Business Support T: 416 – 805 – 6627 Suite 233 – 20 Eglinton Avenue East (Above McDonald's @ Eglinton/Yonge) INK CARTRIDGE REFILLING INTERNET USE / INTERNET CALLS LAMINATING / FAX / COPY / MAIL
Date Posted: 22-Dec-07


Mississauga: Dreampartydecor Inc.
Elaborate Backdrops, Mandaps, Mehandi, Theme wedding Decor. Please visit us at http://www.dreampartydecor.com" rel="nofollow">LINK
Date Posted: 22-Jun-08


Toronto: Toronto Tabla Ensemble
Toronto Tabla Ensemble is a not-for-profit organization committed to fostering an interest in tabla and the classical North Indian rhythmic system by organizing classes and performing in concerts with the aim of developing and expanding the musical f
Date Posted: 14-Feb-12


Brampton: dj indian,dj punjabi,dj pakistani,dj gujrati,dj,dj bengali
Dj Desi Blaster South Asian Weddings, Engagement Parties, Receptions, Maiyans, Sangeet Nights, Birthday Parties, Mehndi Nights, Stage Performances,mehndi,holud,sangeet,maiyaan, nikaah, baraat, valima, rukhsati, receptions Occasions and Events.
Date Posted: 09-Dec-14


Miami: Salsa Kings
Based in Miami, Florida, Salsa Kings train and recruit dancers and dance entrepreneurs from around the world. Along with offering first-rate dance instruction, we organize unforgettable dance events and shows and provide premium quality dance supplie
Date Posted: 04-Aug-20


Miami: Salsa Kings

Based in Miami, Florida, Salsa Kings train and recruit dancers and dance entrepreneurs from around the world. Along with offering first-rate dance instruction, we organize unforgettable dance events and shows and provide premium quality dance supplie
Date Posted: 20-Sep-20


Brampton : Bollywood Dance Classes at Kimaya Fitness
Kimaya fitness in Brampton offers Modern Bollywood dance classes to all age group. We offer weekly group classes and private session for wedding, mehndi night, birthday, baby shower..... We also do after school dance classes for kids age 4 to 18yrs.
Date Posted: 19-May-14


Mississauga: BOLLYWOOD LOLLYWOOD AUDIO VIDEO
ONE OF A KIND VIDEO AND VARIETY STORE CARRYING: *HUGE COLLECTION OF HINDI MOVIES ON DVD AND VHS FOR SALES AND RENTAL *PAKISTANI DRAMA SERIALS ON DVDS AND VHS FOR SALES AND RENTAL *INDIAN AND PAKISTANI MUSIC CDS RANGING FROM THE CLASSICALS TO T
Date Posted: 30-Dec-05


Toronto: Better Business Music Ltd.
Better Business Music is very excited to bring to the marketplace an absolute "1 stop shop" Audio Visual solution company for businesses. We provide audio systems design, background music content, "music on hold", speaker maintenance and installation
Date Posted: 13-Dec-17


Richmond hill: Sheikh Shack Show Bellydance Studios Richmond Hill Toronto Markham
Sheikh Shack Show Studios * School of Middle Eastern Dance specializing in Egyptian Bellydance in Richmond Hill. Try a Free Class! Learn From top star perfomer the beautiful Bebe Dahl, working with the Middle Eastern community for over 1
Date Posted: 18-Mar-08


Bhopal: Become An Infopreneur.
Starting from scratch? Sell what people online want... information. Yes, you can do it. This is the way to start a profitable online business... regardless of your Web skills. Visit us to know more http://buildit.sitesell
Date Posted: 26-Aug-09


Toronto: Live Musical Entertainment & DJ Services-UNDER 1 roof!
Let us liven up your party! Live Musical Entertainment & Karaoke performances by North America's leading performers, singers, dancers and musicians. Make it a memorable experience for your guests!! Affordable rates... short notice ok! Speciali
Date Posted: 18-Oct-06


Map locations are shown as per geocoding services and they depeneds on the accuracy of the address. If address is wrong it may show wrong map. If you put a listing which shows wrong map, please remove the listing and create a new one with correct address details.

Please note: The information on this site is submitted by users. CanadianDesi never checks accuracy of the information. Please use this information at your risk. If you have any question or concern regarding this listing, or you know that the above information is not accurate, please Contact Us. Thanks.
List your business. It is FREE!