Bombay Chaat and Dosa
2580 Shepard Ave Unit 1
Mississauga
,
Ontario
l5a4k3


Listing ID: 63191 Posted on 12-Jun-15


Contact Details:
Sonal
Phone:

9059496600


Fax:

9059496600


Email:

bombaychatmississauga (at) gmail.com

.


Driving Direction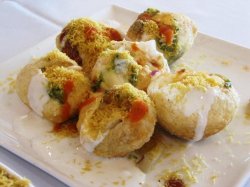 F R E E WI FI
bombaychaatmississauga.ca
bombaychaatmississauga.com

Bombay Chaat and Dosa is a Pure Vegetarian Fast Food South, West and North Indian Restaurant and serves foods from differ​​ent parts of India and authentic Street Foods of Bombay is the food sold by hawkers from portable stalls in Bombay. It is one of the characteristics of the city. The city is known for its distinctive street foods. Although street food is common all over India, street food in Bombay is noted because people from all economic classes eat on the roadside almost round the clock and it is sometimes felt that the taste of street food is better than restaurants in the city. Many Bombayites like a small snack on the road in the evening. People of Mumbai cut across barriers of class, religion, gender and ethnicity are passionate about street food. We serve you purely vegetarian food and give you the true flavours of Street Foods of Bombay but located in Mississauga CANADA. However, there are more than these that can treat the taste buds.

​Dosa​

​Plane Dosa
Masala Dosa
Mysore Dosa
Chilli Dosa
Cheese Dosa
Chattinad Dosa
​Chocholate Dosa​
Pav Bhaji Dosa
Idli Sambhar
Uttapa

​Chaat​

Papadi Chaat
Samosa Chaat
Dahi Vada
Dahi Batata Puri or Dahi Aloo Puri
Sev Puri
Bhel Puri
Pani Puri
Ragada Pattice
Utsal Pav
Vada Pav
Pav Bhaji
​Bombay Sandwitch
Bombay Veg Burger​
Channa Batura
Channa Paratha
Kaju Curry Paratha
Pooran Poli
​Ras Malai
Gulab Jamun​

Pakoda

Aloo Pakoda
Baigan Pakoda
Spinach Pakoda
Mix Veg pakoda

Masala Chai
Regular Chai

​Kulfi​

Mango Kulfi
Pista Kulfi
Malai Kulfi
Falooda Kulfi
Vanilla Bar
Ice Bar
Orange Kulfi
Report Abuse
Similar Businesses
Mississauga: Bombay Chaat Dosa (WE Deliver Food in Mississauga now )
Bombay Chaat and Dosa is a Pure Vegetarian Fast Food South, West and North Indian Restaurant and serves foods from different parts of India and authentic Street Foods of Bombay is the food sold by hawkers from portable stalls in Bombay. It is one of
Date Posted: 22-Apr-15


Mississauga: Pure Veg Indian Fast Food Restaurant
Bombay Chaat at 2580 Unit#1, Shepard Ave, Mississauga, ON, l5a4k3, Dundas/Hwy10 (South East Corner) in Newin Centre Mall Ph# 905 949 6600 A PURE VEGETARIAN FAST FOOD INDIAN RESTAURANT SOUTH INDIAN AND FOODS FROM DIFFERENT PARTS OF INDIA AUTHEN
Date Posted: 09-May-18


Mississauga: Avsar - Gujarati Thali & Street Food
Avsar is a destination of choice when it comes to craving of pure vegetarian and authentic Gujarati cuisine. With a choice of various thalis on weekdays and amazingly satisfying 'Royal Thali' during lunch on the weekends, Avsar is the place to be. Wh
Date Posted: 17-Oct-18


Scarborough: Komala's Restaurants
One of a kind quick-serve restaurant serving pure vegetarian food. Fresh and elegant facility. We serve authentic Indian food made from fresh ingredients every day. WIDE CHOICE of menu: northern Indian, southern Indian, chaat, Bombay-style pa
Date Posted: 08-Mar-06


Mississauga: DEVI HOME FOODS & CATERERS
DEVI HOME FOODS & CATERERS - Mississauga;s #1 catering service and Take-out facility. We specialize in 100 % pure Vegetarian Food, made with that "mother's touch", devotion, care and love. Call us for breakfast/lunch/Dinner packs, made available o
Date Posted: 19-Sep-05


Mississauga: Estern Food International
All kinds of Indian and Pakistani Groceries Food Prepared Fresh in house daily For take out only Biryani, Chiken Tikka, Nihari, Korma, Chapati, Aloo Paratha, Keema Parantha, Seekh Kabab, Shami Kabab Saturday - Sunday Breakfast Halwa Puri
Date Posted: 06-Oct-02


Brampton: King Paan
Paan, Chaat, Falooda, Kulfi Falooda, Ice Gola, Mango Milkshake, DVD and CD's, Kashmiri Chai, Gol Gappa, Kulfi and all tambakus
Date Posted: 18-Jul-14


Mississauga: Bollywood Unlimited Paan & Falooda
Bollywood unlimited is a movie store with a food corner. Open till 12 AM every day it is the best place to hangout. The Best paan, Falooda & Gola Ganda in the town. Best Kulfis(made fresh at store), Chat pati chaat, pani p
Date Posted: 29-Oct-09


Brampton: Home Based Chat Bhandaar
Hello All, I am looking into opening my own Special Chaat Bhandaar around here in brampton. We currently have our shops in Chandigarh and Mohali. If you need to enjoy the original taste of Pani Puri, Chaat Papri, Chole Bhatur
Date Posted: 12-Jul-07


Mississauga: Bollywood Unlimited
Bollywood unlimited is a movie store with a snack corner inside.A huge varity of Hollywood and Bollywood movies And TV Dramas Best Kulfi,Falooda,Rubdi Falooda,Kulfi Falooda,Shaahi Falooda,Shaahi Malai Kulfi,Kesar Pista Kulfi,Badam Baa
Date Posted: 12-Jul-08


North york: Agra Fine Indian Cuisine
The city of Agra stands on the bank of the river Jamuna between Mathura and Surajpur, and is best known as the home of the Taj Mahal, India's most famous and ancient architectural wonder. Like the Taj Mahal the wonders of Indian food is equ
Date Posted: 25-Jan-07


Calgary: Rajdoot Restaurant
Rajdoot Restaurant welcomes you! If you're seeking great-tasting Indian food in Calgary, those in the know think first of Rajdoot. One of the city's long-standing Indian restaurants, Rajdoot has operated from its 4th Street S.W. location for 25 ye
Date Posted: 03-Dec-19


Toronto: Omnious Group
It gives us immense pleasure to announce the opening of Omnious Group, acompany established to serve delicious Mumbai based vegetarian fast food inGreater Toronto Area through our catering services. Our key objective is toprepare and serve deli
Date Posted: 04-Jan-08


Mississauga: Bombay Chaat

Date Posted: 07-Oct-12


Pickering: Iqbal Food Supermarket---Pickering, Ontario, Canada
Iqbal Food Supermarket is located in the city of Pickering, Ontario, Canada. It is a leader in providing quality grocery, spices & meat products to not only South East Asian people but also to other Ethnicities. Unlike some of the other typical South
Date Posted: 21-Mar-04


Map locations are shown as per geocoding services and they depeneds on the accuracy of the address. If address is wrong it may show wrong map. If you put a listing which shows wrong map, please remove the listing and create a new one with correct address details.

Please note: The information on this site is submitted by users. CanadianDesi never checks accuracy of the information. Please use this information at your risk. If you have any question or concern regarding this listing, or you know that the above information is not accurate, please Contact Us. Thanks.
List your business. It is FREE!