East Indian Supermarket & Indian Grocery

2427 Trafalgar Rd

Oakville

,

Ontario

L6H+6K7


Listing ID: 42859 Posted on 26-Mar-09
http://www.eastindiansupermarket.ca

Contact Details:
Kuldip Grewal
905-257-2578 info (at) eastindiansupermarket.ca .


Driving Direction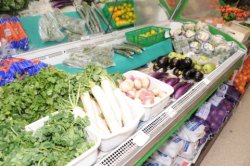 East Indian Supermarket is a family-owned grocery store business located in Oakville serving the Asian & Indian community for 15 years with over 2000 sq. ft. of retail facility. East Indian Supermarket carries all kinds of Indian groceries from a wide variety of name brands. East Indian Supermarket also carries fresh fruits, vegetables, best sweets & samosas and all kinds of indian foods & spices including rice, flour, lentils, you name it. We also have a huge section of frozen items including milk, cheese, yogurt & all other diary products. East Indian Supermarket always strive in providing the best customer satisfaction, a very clean & friendly environment along with the best prices in town. We prides ourselves on having clean stores, competitively-priced products, a large selection of quality national and regional brand products and one-stop shopping services. Customer satisfaction is East Indian Supermarket's #1 priority. East Indian Supermarket is located at 2427 Trafalgar Rd in Oakville at the intersection of Dundas & Trafalgar. East Indian Supermarket is a one-stop shop for all your groceries.


Report Abuse
Similar Businesses
Pickering: Iqbal Food Supermarket---Pickering, Ontario, Canada
Iqbal Food Supermarket is located in the city of Pickering, Ontario, Canada. It is a leader in providing quality grocery, spices & meat products to not only South East Asian people but also to other Ethnicities. Unlike some of the other typical South
Date Posted: 21-Mar-04


Morrisville: Suvidha Indo-Pak Groceries
Welcome to Suvidha INDO-PAK Groceries : Suvidha INDO-PAK Groceries is Atlanta's premier Indian and Pakistani Grocery store serving the Northern and North-Western Suburbs around Atlanta Metropolitan area. At Suvidha we ensure one of the most pleas
Date Posted: 20-Jan-16


Etobicoke: JAS Foods
We specialize in East and West Indian Groceries Complete Selection of Groceries, Spices, Dals, Rice, Atta, Milk, Butter and Snacks Fresh Vegetables and Fruits Wide Variety of Audio Tapes, DVDs & CDs
Date Posted: 06-Oct-02


York: Homeland East & West Indian Supermarket

Date Posted: 16-Oct-02


Mississauga: Majeed Supermarket
Fresh Vegetables Fruits Dals Atta Rice Pickles Juices Masalas and All types of Indian and Pakistani Groceries We also have large variety of Sweets Two Locations - Malton and Mississauga
Date Posted: 06-Oct-02


Mississauga: Thiara Supermarket Inc
Indian and Pakistani Groceries Fresh fruits Vegetables Spices Audio Video DVD
Date Posted: 30-Nov-02


Brampton: Kennedy Supermarket
Quality & Cleanliness our first priority Fresh vegetables, fruits and heat Wholesale Indian Basmati Rice and Spices Two locations - Rexdale and Brampton
Date Posted: 06-Oct-02


New market: Continental Essentials
Spices, Pickes, Dals, Rice(Sona Masoori, Basamthi, etc), Flours, Fresh Vegetables, Sea Food, Samosas, Salads, Pakora, Punjabi and South Indian Food Specialities, Milk and Milk Products, Ice Creams, Kufi, All kinds of Bread, Eggs, Halal, Regular Meat,
Date Posted: 29-Aug-04


Mississauga: Pak Indian Supermarket
Fresh Fruits Vegetables Halal Meat Spices Rice Beans Video Rental
Date Posted: 06-Oct-02


Mississauga: Isapur Supermarket
Pride of Indo-Canadian Shoppers Indian and Canadian Groceries Vegetables, Fruits, Dals, Sweets DVD, Audio, Video Sales and Rentals
Date Posted: 06-Oct-02


Mississauga: Mississauga Grocers
East & West Indian Foods Always Fresh homemade Roti's and Paratha's available Fresh Vegetables and Fruits Spices Dals Rice Atta Frozen Foods Sweets Snacks Vegetarian and Non-vegetarian Catering for all ocasions Video and DVD rental
Date Posted: 06-Oct-02


Scarborough: Komala's Restaurants
One of a kind quick-serve restaurant serving pure vegetarian food. Fresh and elegant facility. We serve authentic Indian food made from fresh ingredients every day. WIDE CHOICE of menu: northern Indian, southern Indian, chaat, Bombay-style pa
Date Posted: 08-Mar-06


Toronto: Asian Grocery & Spices
East & West Indian Grocery; Fruit & Vegetables
Date Posted: 26-Dec-01


Mississauga: Bombay Grocers
Freshness you can always count on! Fresh fruits, Vegetables, Frozen Foods, Spices & Dairy Products Latest & Old CDs, Audio Tapes, Videos and DVDs on Sale Video and DVD Rental Largest Variety in Indian, Pakistani and Canadian Groceries
Date Posted: 06-Oct-02


Etobicoke: Westland Supermarket West Indian And Variety

Date Posted: 15-Oct-02


Map locations are shown as per geocoding services and they depeneds on the accuracy of the address. If address is wrong it may show wrong map. If you put a listing which shows wrong map, please remove the listing and create a new one with correct address details.

Please note: The information on this site is submitted by users. CanadianDesi never checks accuracy of the information. Please use this information at your risk. If you have any question or concern regarding this listing, or you know that the above information is not accurate, please Contact Us. Thanks.
List your business. It is FREE!